(Thanks so much to the Romance Magicians blog for hosting a stop on the Playing Ball Blog Tour! Southern Magic RWA is the best!)
Authors dream of the day they finally have a book published. Part of that dream is usually the book dedication, that page where you get to thank the person or persons who are important in your life and/or to the writing of the book. You imagine how that person feels when they open the book and see their name there on the page. When my dream came true, my first dedication was to my husband. For my second book, the dedication was to friends in high school who'd inspired my characters.
In PLAYING BALL, a new anthology from Dreamspinner Press, my novella
One Last Road Trip
has the following dedication:
In memory of Glenn Burke (1952-1995)
Who is Glenn Burke?
As an outfielder for the Dodgers and the A's in the mid-to-late 70s, Glenn Burke was a solid player. He batted .237 and had 38 RBIs in 523 at-bats. He was also a talented basketball player, who could have gone to the NBA had he not decided to take the MLB up on their offer.
He was also the first man in major professional sports known to be out to his teammates, his management, and other baseball players. He never made his homosexuality a secret to the press, either, but there was never a mention of it during his major league career.
What happened to Burke?
He was run out of baseball.
According to Burke's autobiography, the Dodger office was eager to push their player back into the closet, but, when he wouldn't co-operate, they traded him to the A's. In Oakland, Burke was underutilized, and a homophobic culture bred by the team's manager led to Burke's teammates avoiding him. After he injured his knee and was bumped down to the minors, Burke was released in 1980. He was 27 years old.
In 1982, he came out to the world in a sports magazine article, but he never played professional sports again. Suffering from AIDS and having turned to drugs, Burke was homeless the last years of his life. After an article about him appeared in the
Seattle Times
, he lived out the last few months of his life with his sister. He died in 1995 at 42, almost three years younger than I am now.
When people talk about the first out player in US professional sports, they never mention Glenn Burke. In all likelihood they've never heard of him. But everyone should.
Glenn Burke on Wikipedia
Recently article about Glenn Burke in The Atlantic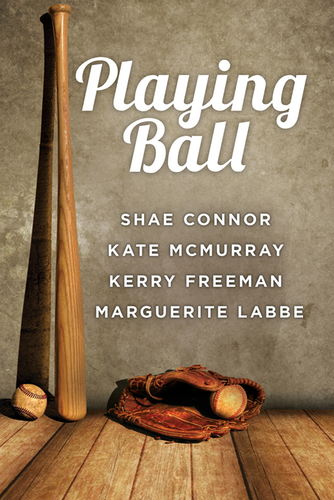 Baseball—America's favorite pastime—provides a field wide open for romance. A
Home Field Advantage
may not help when Toby must choose between the team he's loved all his life and the man he could love for the rest of it. In 1927, Skip hides his sexuality to protect his career until he meets
One Man to Remember
. Ruben and Alan fell victim to a
Wild Pitch
, leaving them struggling with heartache and guilt, and now they've met again. And on
One Last Road Trip
, Jake retires and leaves baseball behind, hoping to reconnect with Mikko and get a second chance at love.
Buy at Dreamspinner:
ebook
or
paperback
Buy at ARe
Buy at Amazon:
ebook
or
paperback
To celebrate the release of PLAYING BALL, Shae Connor, Kate McMurrary, Marguerite Labbe and I giving away two great prizes:
Grand prize: A print copy of PLAYING BALL signed by all four authors, a unisex BBQ apron featuring hot athletes from
Originals by Lauren
, and swag from all four authors.
Runner-up prize: An ebook copy of PLAYING BALL and swag from all four authors.
The giveaway will run from 12AM Central on September 21, 2013 to 12AM Central on October 11, 2013. To give an opportunity for the authors to get together to sign the book and gather swag, the winners will be picked and the prizes shipped after the end of GayRomLit 2013.
Rules:
You must be a resident of Earth, 18 years or older, who lives in a place where the viewing of adult material is legal. By entering the giveaway, you are indicating your agreement to the rules. Winners must provide a physical mailing address to receive their prizes. If a winner does not respond to the prize notification within 48 hours, the prize will be re-awarded.
Good luck!
a Rafflecopter giveaway