MorBCN/Flickr
2012 was an excellent year for reading. So many wonderful books, so little time. I asked my fellow Southern Magic members to tell me, of all the books they read this year, which was their favorite. (Note, I didn't say the book had to be new this year, just that they had to have read it this year.) The resulting list was as varied as our members, and I ended up adding several books to my massive to-read list.
My favorite book this year is
THE REASON IS YOU by Sharla Lovelace
, which is set in a bayou area, with a hot, sexy ghost and an even hotter flesh-and-blood hero as counterpoint to a smart, loving single mom heroine who is not only down on her luck and forced to move back to the hometown (in her father's house) and its snobs who think she's a freak but trying to raise her teenage daughter who doesn't know (yet) she can see ghosts, too. The characters are unique yet easy to identify with and care about and the story has a wonderful ending and bit of a twist. -
Betty Bolté
I know you said one book--but three stand out to me, because each one of them represented something different.
1.
SONG FOR SOPHIA by Moriah Densley
, a historical. A story with two strong, scarred people that moved me to tears. (and I don't cry often with books). There was a happily ever after, but I still think of those characters.
2.
MAGIC BITES By Ilona Andrews
. An urban fantasy that kept me turning the page, it references old slavic myths, and has some of the best dialogue I've ever read.
3.
UNHOLY MAGIC by Stacia Kane
, urban fantasy. One of the most flawed heroines I've ever read. No matter, I still found myself hoping for her, and the secondary characters are memorable. -
M. V. Freeman
I read the
Millennium series trilogy by Stieg Larrson
. The structure of the writing wasn't my favorite. Maybe it lost something in translation, but the characters and the plot drew me in and kept me turning pages. Salander has become one of my all time favorite characters.
And I've got to add one more.
UNDER HIS WINGS (yet to be released) by our very own Naima Simone
. I LOVED this book and the second in the series and cannot wait until they are both in print. Naima was born to write paranormal romance. The hippogryph shifter was unique. Her description of the hero made him come alive. With wings and without, he was a character I'd love to meet. Wonderfully written, and filled with Naima's brand - those of you who've read her books know she can evoke emotions between characters and describe them so fully, it really puts you in the story. -
Debra Glass
Of all the books I've read this year, I'd vote for
HUSHED by Kelley York
(YA - Entangled Publishing 2011). I'm normally not a fan of bad-guy protags, but this one blew me away. It's a very different book. Lots of dark characters. The main character, Archer, is technically a bad guy (a murderer of bad guys), but this is written so well, I hoped he would have a good outcome. Very dark. Very violent book. Just when you think it can't get any worse for this character, it does. It's one of those. It's not a romance, but has an element of romance in it, which is beautifully done as well. Amazing writing. I loved it. -
Callie James
My favorites were
Sylvia Day's Crossfire books
! I loved them and can't wait for the next one!! -
Alicia Hunter Pace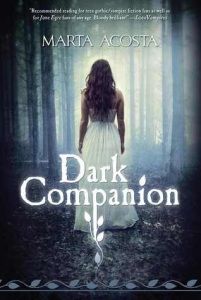 I'll put in a vote for
Marta Acosta's DARK COMPANION
. I've gotten kind of burned out on Young Adult, but this was a modern retelling of Jane Eyre, with a really dark, dark twist to it. It's a book that's haunted me and I'm still thinking about the different nuances of it months after I first read it. It's all about self-acceptance, and love, and friendship, and how distorted those things can become. -
Suzanne Johnson
ONE FOOT IN THE GRAVE by Jeanine Frost
! Amazingly well developed characters combined with sizzling chemistry and snappy dialogue. -
Julie Johnstone
My favorite book of 2012 is
Nalini Singh's ARCHANGEL'S STORM
. The characters were two of the most beautiful I've ever read. Their history, all they'd been through to emerge as these strong but scarred people who found completeness in one another had me in tears at the end of the book. The writing is amazing...take that back. Nalini Singh doesn't write--she draws a story. -
Naima Simone
Though I don't read as many full novels as I would like, I did read several this year from some of my old time favorite authors and none blew me away with the juicy delicious difference of
M V. Freeman's book INCANDESCENT
. I have a crush on her hero and can't wait to read the next one. -
Carla Swafford
And, lastly, my favorite book of the year:
A LAND MORE KIND THAN HOME by Wiley Cash
. I love books set in the South, and this book was wonderful. I really love the book, especially the different perspectives you get from the story's three narrators. The depiction of rural Southern culture was very realistic, and the characters were rich and well-developed.
Thank you so much to everyone who contributed their favorites!
Of the books you read in 2012, which was your favorite? Which book are you looking forward to in 2013?
Kerry's website
|
Kerry @ Twitter
|
Kerry @ Facebook